I´ve been practising music my whole life, for as long as I can remember.
With a musically active family behind me, it was quite natural that I chose this path in
life.

It all started with me learning to sing and play the piano in afro style (ie jazz, blues, R´n´B,
rock and much more), but I also got to learn playing classical music from sheet music.
When the time came to pick an instrument in elementary school, I chose the trumpet, which
became my primary focus for the next 10 years.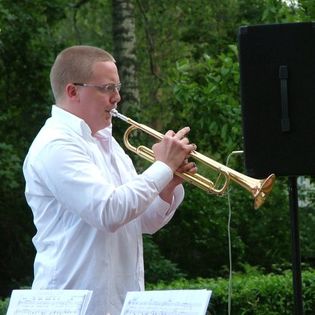 In high school I entered the music program, but soon discovered that the voice and
the piano became more important to me than the trumpet.
Therefore, I chose to spend a little less time on the trumpet in favor of the piano and my
own voice. At this stage in my life I also started composing my own music.

After high school, I was drafted - and to my great joy, I attained the knowledge that
the Swedish military offered training to become a music soldier!
I applied for Livgardets Dragonmusikkår (LDK) and was granted a seat as trumpeteer in
the mounted high guard.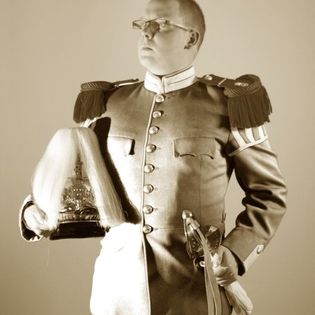 When my service came to an end, I took a 1 1/2 sabbatical before deciding to apply for
the Church musician program at Mellansels Folkhögskola.
I´d never played the organ before, and so I chose to first educate myself for a year at the
program for organ playing. Then followed a few years of full-time church musician studies,
after which I decided to study at half speed - so that I could gain practical experience in the real world.
I got three (short) temporary positions in the Church of Sweden, in Västernorrland, but then applied for
one full-time position in EFS as a congregational musician.
I stayed there for 5 years, to my and the congregation's great joy! At this point had I have managed to
compose a lot of music for both adult choir, children's choir and solo.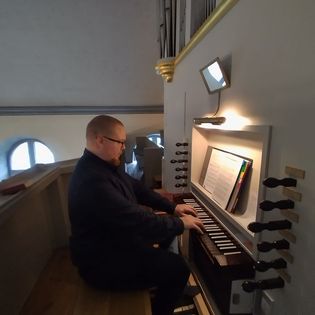 For personal reasons, my wife and I then chose to move south, where I - now as a fully educated Church Musician - applied for a position in Södra Vedbo Pastorate. I am still there today - and I enjoy it very much!
The idea of starting my own firm has followed me since high school, but I didn´t have the time. Until now.
I feel strongly about the line of work I have chosen to apply myself to; to contribute to people's joy and ease
their grief, when they want it and need it.
If you wish to hire me, it means that you will get a socially and musically competent musician.
My music always comes from the heart, in my opinion the only way to perform music.
List of merits
The musical program at the High school, Karlbergsgymnasiet, Åmål (2004-2007)
Livgardets Dragonmusikkår, K1 in Stockholm (2008)
The Church Musician program with afro profile at Mellansels Folkhögskola, in Mellansel (2010-2020)
- Basic course in Classical piano
- Basic course in Commercial Piano
- Basic course in Classical/ and Afro singing
- Advanced course in Classical singing
- Basic course in solo organ playing
- Basic course in Liturgical organ playing
- Basic course in "by ear" theory/ and Musical movement theory
- Basic course in Conducting

In addition to these courses, I also master
- Trumpet - Bass
- Basic chord playing on guitar
- Basic knowledge of percussion
Work experience

Summer substitute in Sävar-Holmön parish (2013)
Substitute 6 months in Tavelsjö parish (2014)
Substitute 6 months in Umeå County Assembly (2015)
Full-time position in EFS, Bergsbyn (2015-2020)
Full-time position in the Church of Sweden, Ingatorp-Bellö parish (2020-ongoing)